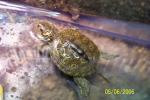 Hatchling DBT1
He was released to a nice marshy area.
Date: 05/15/2006
Views: 3560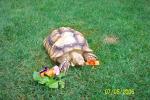 Atlantis
A Sulcata Tortoise that was dumped on a local Aquarium Center. Apparently a lot of work went into fixing a shell wound so was well cared for by someone. If I can't find the owner I'll be looking for a new home for him. He's about twenty pounds
Date: 07/05/2006
Views: 4261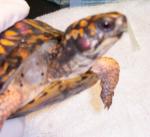 Boxie with abcesses
This boxie came in on June 24th with ear abcesses.
Date: 07/07/2006
Views: 7366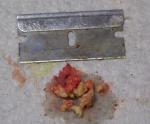 Ear abcess pus
Pus from Box turtle ear abcess. Razor blade to show size only, was not used on turtle.
Date: 03/08/2007
Views: 5047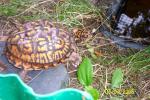 Eastern Box turtle
Here she is almost two weeks later and all healed up.
Date: 07/07/2006
Views: 8755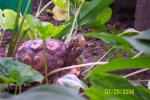 Lily in her new home
Lily is either an Eastern or a Three toed or a hybrid. A bit deformed but cute none the less.
Date: 07/20/2006
Views: 3729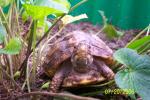 Lily in her new home1
From the looks of that face she's been poking around all the bug spots. :-)
Date: 07/20/2006
Views: 3647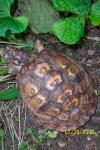 Boxie Carapace
Lily carapace view
Date: 09/01/2006
Views: 3390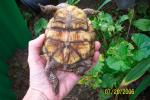 Boxie Plastron
Lily plastron view
Date: 09/01/2006
Views: 2987