Toby
This is a video clip of Toby, a one year old Sulcata that came into the rescue in really bad shape. He was barely able to lift his head when he came in. He is a tortoise that was on a poor diet, poor substrate, had no uvb and just had everything wrong. To top it off he was brought in on cedar shavings which contain toxic properties, so this tortoise had everything going against him. He was originally kept on rabbit (alfalfa) pellets which apparently, by appearances, became the mainstay of his diet. Other than that he was eating mustard greens and romaine. The lamp he had was a Sun glo which gives no uvb. He was not provided with any humidity and the dry substrates just added to his problems. As you can see in the video he can now walk, but with difficulty. He's still very unstable but he is able to get around. His head, as well as his legs tremble when he walks, but he has determination so with time and a good diet as well as lots of sunshine he should recover. We will be looking for a good home for Toby in a southern state where he can spend most of his life outdoors, so if you have a great home for him please fill out an adoption application so when the time comes for him to move on he'll have a great home to go to.
UPDATE: Toby has been adopted to a great home in Florida where he is doing well with his new keeper. If you want to adopt a Sulcata, although Toby is no longer available, we often get them in and they too need homes, as Toby did. Not all are in the shape that Toby is, many are pyramided, but some are in excellent condition.
So fill out an adoption application at: http://turtlerescues.com/turtle_tortoise_adoptions.htm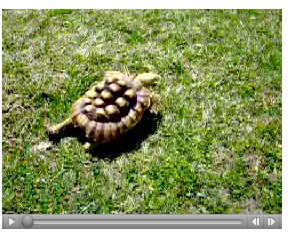 Click above to view a short video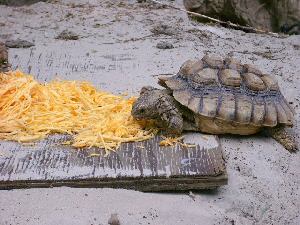 Toby 2˝ years later and this is what his new owner says: "Toby was the only I couldn't get to hold still" Looks like a little bribe worked well. So it's great to know Toby has gone on to live a wonderful life despite his terrible start.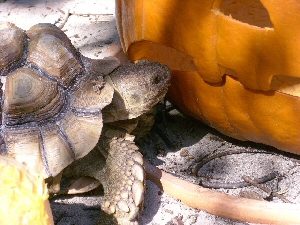 Not afraid of that big bad Jack O Lantern.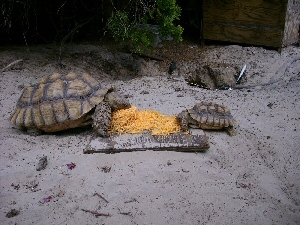 Toby on the right
Sure is enjoying the pumpkin fest with his buddy Oreo.